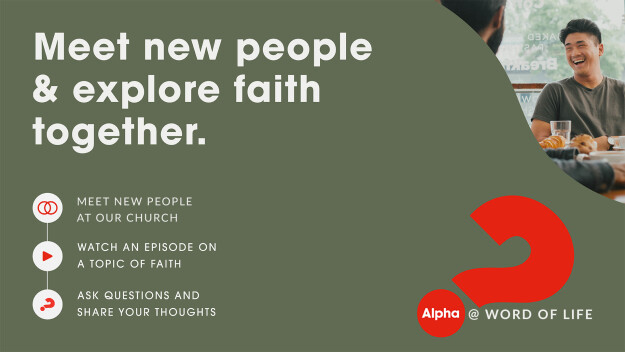 Alpha at Word of Life
Every Wednesday, from 09/13/2023 to 12/06/2023, 6:30 PM - 8:15 PM
Alpha is a series of weekly interactive discussions about the basics of the Christian faith. It's a judgement-free place for open and honest dialog about the big issues of life. It's a place to meet other people, wrestle with doubt, share your perspective, and ask big questions.
Do you know someone who may be interested in knowing more about Jesus but would probably not feel comfortable coming with you to church on Sunday morning?
Alpha is designed for people who are exploring the Christian faith or who are new to following Jesus. You are welcome to invite them to Alpha and attend the weekly sessions with them!
Alpha at Word of Life will meet for twelve weeks beginning Wednesday, September 13 at 6:30PM in-person in The Porch.
+ Food and childcare are available
+ Alpha at Word of Life is from 6:30 - 8:15PM
+ Alpha is free but registration is required
Alpha at Word of Life in-person will include food, worship music, video based teaching, and round table discussions. Get registered below and include the names of anyone you are bringing with you!