06.26.22
What Kind of Spirit?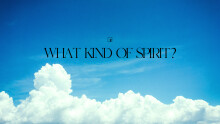 Series: Ordinary Time 2022
Speaker: Brian Zahnd
Description:
The "Sons of Thunder," James and John, wanted to call fire down from heaven on a Samaritan village who refused to welcome Jesus. In their petition they were able to cite Scripture because Elijah had done this. But Jesus rebuked them, saying, "You do not know what manner of spirit you are of." The question isn't can we find it in the Bible, but can we find it in Jesus. If we weaponize the Bible to hurt other people, we do not have the Spirit of the Lord.