03.05.23
Lent 2023: The Jesus Revolution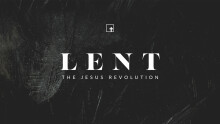 Series: Lent 2023
Speaker: Brian Zahnd
Description:
WANTED: JESUS CHRIST
Alias: The Messiah, The Son of God, King of Kings, Lord of Lords, Prince of Peace, etc.
Notorious leader of an underground liberation movement.
Wanted for the following charges: Practicing medicine, winemaking, and food distribution without a license. Interfering with businessmen in the temple. Associating with known criminals, radicals, subversives, prostitutes, and street people.
APPEARANCE: Typical hippie type—long hair, beard, robe, sandals. Hangs around slum areas, few rich friends, often sneaks out into the desert.
BEWARE: This man is extremely dangerous. His insidiously inflammatory message is particularly dangerous to young people who haven't been taught to ignore him yet.
WARNING! HE IS STILL AT LARGE!