09.26.21
Jesus or What?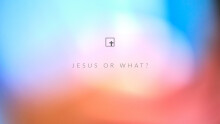 Series: Ordinary Time 2021
Speaker: Brian Zahnd
Description:
Simon Peter perceived the truth: Once we really know by revelation who Jesus Christ is, we are ruined for anything else. There is no going back to the way things were before Christ. We can go away from Jesus, but we won't find a substitute for the one who alone has the words of life. It's Jesus or…what? It's Jesus or nothing. It's Jesus or nihilism.