05.15.22
Eastertide: The Road Away From God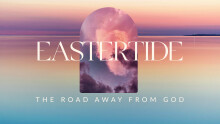 Series: Eastertide 2022
Speaker: Jonathan Martin
Description:
Sermon by Jonathan Martin.
In this sermon, Jonathan Martin reimagines Luke's story of two
disillusioned disciples walking the Emmas road away from the holy city, where they had watched their hope die a gruesome death right before their eyes. With compassion born from his own experience, Martin reveals that the resurrected Christ is profoundly present with us-even as we walk away. This is a sermon to help you feel seen in your spiritual journey and all its complexities ... and to find home where you least expect it.