04.23.23
Eastertide 2023: When Do We Live?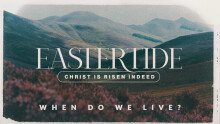 Series: Easter 2023
Speaker: Brian Zahnd
Description:
About twenty years before Jesus began his ministry there was a series of militant charismatic leaders who rose up claiming to be the Jewish Messiah—that is they claimed to be the King of the Jews sent by God to liberate Israel from Roman domination and establish the Kingdom of God. These false and failed messiahs are the ones that Jesus describes as thieves and bandits who came only to steal, kill, and destroy. In contrast to these violent messiahs who only bring death and destruction, Jesus is the Good Shepherd who brings abundant life to the flock of humanity.