04.16.23
Eastertide 2023: LEAP!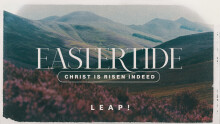 Series: Easter 2023
Speaker: Brian Zahnd
Description:
In a secular and cynical age, the only way to cross the abyss of infinite skepticism and its requisite sadness is with a leap. Do you want to believe? Then go ahead and jump! Will Jesus be there to catch you? Only those who take the leap will ever know.