11.20.22
Christ of All Things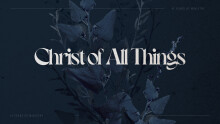 Series: Ordinary Time 2022
Speaker: Brian Zahnd
Description:
The claims that Paul makes concerning Christ in his "All Things" theopoetics are absolutely stunning!
Christ is before all things.
Christ has first place in all things.
All things were created in and through Christ.
All things were created for Christ.
In Christ all things hold together.
In Christ God has reconciled all things to himself.