Kids Kamp is our kids ministry for 1st-5th graders. We believe that life with Jesus is the greatest adventure of all and we invite kids to experience adventures with Jesus each Sunday. With age-specific teachings, small group experiences, and tons of fun, our aim is to ensure kids know Jesus and are known by his church.
Is your family new to Kids Kamp?
Fill out the form at wolc.com/connect and tell us about your family!
Do you have kids ages newborn - kindergarten?
Get more info at wolc.com/kids

What will my child learn at Kids Kamp?
There are several ways of learning at Kids Kamp - video and live teaching moments, small group discussion, and worship. In small groups, kids learn christian community. In worship, kids learn the Apostle's Creed and Lord's Prayer through weekly liturgy; they also learn that Jesus is present through music. For our video teaching we use One Story Kids by The Jesus Collective.
"The One Story approach is to teach stories within the context of the overarching biblical narrative, so that kids and youth can learn each story and how it connects into God's story. We also want kids and youth to see where they fit into God's story, and discover the role that God has for them as disciples of Jesus." -The Jesus Collective
Will my child make friends at Kids Kamp?
We work intentionally to create an environment which makes it easy for kids to make new friends. Our space is equipped with games for free play before and after service and our weekly lesson plan includes a time for age-specific small groups focused on making friendship connections for kids.
How do I check my child in at Kids Kamp?
Check-in opens fifteen minutes before service begins. The Word of Life Kids check-in desk is located opposite the main entrance in the foyer.
If it's your first time here, our team of caring volunteers will gather some basic information about your family: names, address, age of your child, etc. You and your child will be given stickers with matching security codes. Place your child's sticker on his or her back and keep your sticker somewhere safe; you'll need it when picking your child up after service.
When your child arrives at Kids Kamp, there will be a secondary check-in table. They will recieve a snack, a water, and fill out a name tag to leave at their seat ensuring they remember where their seat is after they play.
When service is over, you will return to the MYC room and show the volunteer your parent sticker you received at check-in. They will call out your child's name and your child will come to the back of the room to meet you.
If you are needed during service, we will text you or your pager number will appear on a small LED screen located above each of the side screens in the main sanctuary. Simply come to your child's room and a leader will fill you in.
How does Kids Kamp ensure my child is safe and secure?
We take a proactive approach to safety and security because the safe care of your child is of the utmost importance to us. Once check-in is completed, our space is limited to appoved volunteers only. Every member of our Word of Life Kids Ministry has been screened and approved through our application and interview process. Every volunteer has an active background check on file which we regularly update. In addtion to background checks, every volunteer has completed and pass our abuse awareness training provided through MinistrySafe.
MinistrySafe was founded by legal professionals and sexual abuse experts, Gregory Love and Kimberlee Norris. Through their litigation practice representing victims of child sexual abuse, they recognized a vital need to equip churches and ministry programs to better protect children from sexual abuse. The risk is real, and it's preventable. Prevention starts with awareness.
We have emergency protocols in place in the case of weather, fire, or intruder and hold training events for our team every year - as well as on-going reminders of these policies throughout the year.
What if my child has specific needs?
Please let us know if your child has specific needs. We welcome every child, just as Jesus did! Our staff will work together with you to do ensure we are doing all that we can to provide a safe and welcoming experience for your child. From developmental and behavorial needs to dietary resrictions, we hope to serve each of our families with compassion and care. Please contact our kids ministry corrdinator with questions or specific needs at .

Sarah Foster - Kids Minsitry Coordinator -
Sarah is a mom of three boys and has a life-time of kids minsitry experience. Her and her husband Andrew are passionate about children knowing Jesus and being known by his church.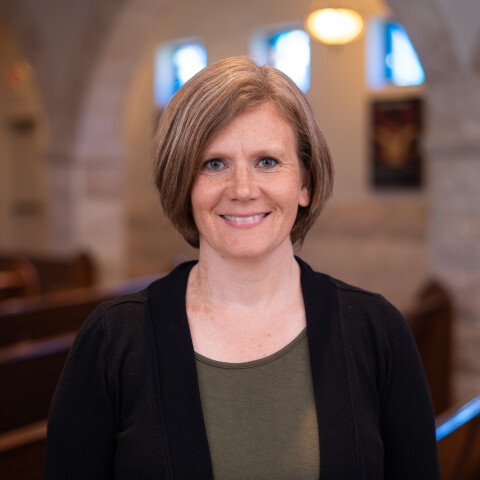 Jacob Taylor - Family Pastor -
Jacob is a father of two and has been working in minsitry with young people for over twelve years. He and his wife Megan are committed to equipping the body of Christ for the work of Christ in and through Christ's church.