NEW SMALL GROUPS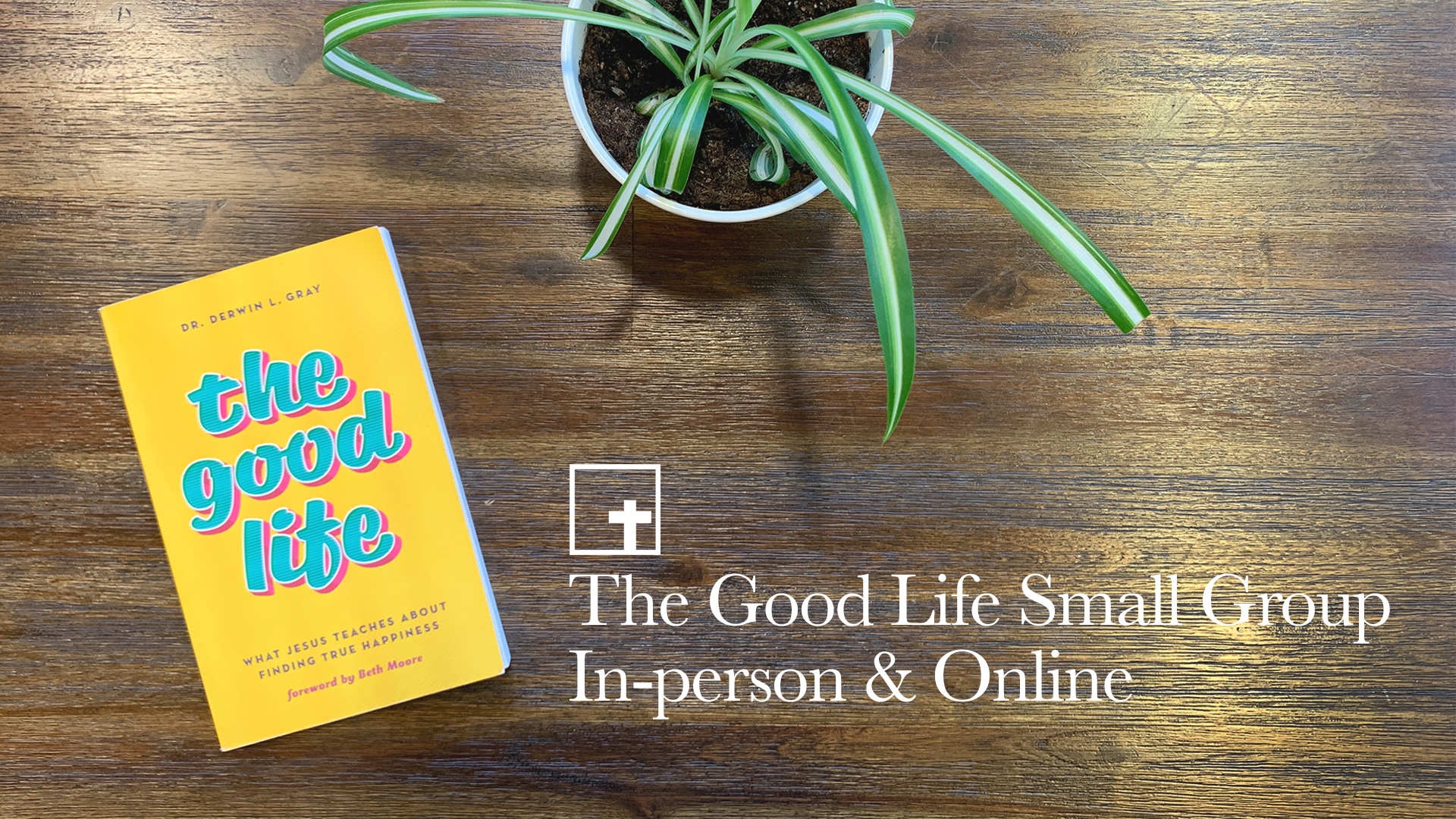 The Good Life Small Group
In-person in the MYC Tuesday nights 6:30 - 8:00PM beginning September 15

Online via zoom Wednesday nights 6:30 - 8:00PM beginning September 16
Check out our small group discussion guides here!
Everyone wants to be happy. We spend our money, time, and energy chasing after "the good life," and we run ourselves into physical, mental, and emotional exhaustion on the way. Dr. Derwin L. Gray, former NFL player and pastor of the multi-ethnic Transformation Church in Indian Land, South Carolina, believes there is a path to true happiness.
This video-based discussion group, based on Pastor Derwin's book The Good Life, will guide us into a life lived with Jesus by embracing the Beatitudes found in Matthew 5:1-12. The good life is found in following Jesus.
For eight weeks we will gather online and in person to listen to a short teaching video from Pastor Derwin and then discuss how we can experience happiness by embracing Jesus' kingdom announcements in the Sermon on the Mount. Books are recommended but not required. Copies are available in The Porch.
Sign up today!
WOLC Mom's Group
This group meets in person throughout the year and does various book and video studies. Currently, they are working their way through Backyard Pilgrim: Forty Days at Godspeed. The group has moved online to ZOOM to continue their discussion based small group, Thursday afternoons from 1PM-2:30PM. Contact Megan Taylor at to join!
Everyone Is Homeschooling
This is a group dedicated to parents everywhere, because everyone is homeschooling now. Let's get together and share support and advice for doing school at home with your kids. If you are an experienced homeschooling parent - we need you to share your wisdom PLEASE! For more details email our family pastor at .
Join our Word of Life Church Facebook group at https://www.facebook.com/groups/WOLCGroup
Check back for updates on new groups starting soon! If you would like to start a group, contact our discipleship pastor at .
YOUTH GROUPS
We are taking our weekly small groups for students online through ZOOM! Students grade 6th-12th are welcome to join their peers for a weekly hangout and dive into conversations about life, faith, and god. Groups meet up online Wednesdays at 6:30PM. Head to http://wolc.com/myc-youth-updates-for-covid19/ for details.
KIDS GROUPS
We will have a kids ZOOM hangout on Thursdays from 6-7PM. Kids will get the chance to hangout and talk about life and Jesus. Our kids ministry leaders will be hosting the hangout and leading the conversation. More details at http://wolc.com/kids-church-online.
Using ZOOM is easy!
1. You can use ZOOM on your desktop browser if you have a webcam and microphone set up on your desktop or laptop.
2. You can also use ZOOM on your smartphone. Download "ZOOM Cloud Meetings" from your favorite app store.
3. You will receive an email with a link to your ZOOM small group meeting. Save this email.
4. In preparation to join the ZOOM meeting make sure you are in a place with quick and stable WiFi access to the internet. (If you can stream videos without buffering, then your WiFi connection is quick and stable enough.)
5. At the time of your group, click/tap the link in your email and follow the directions to enter the ZOOM meeting. Click "Open Zoom" when prompted.
I NEED HELP WITH ZOOM
Complete this form and someone will be in touch as soon as possible.