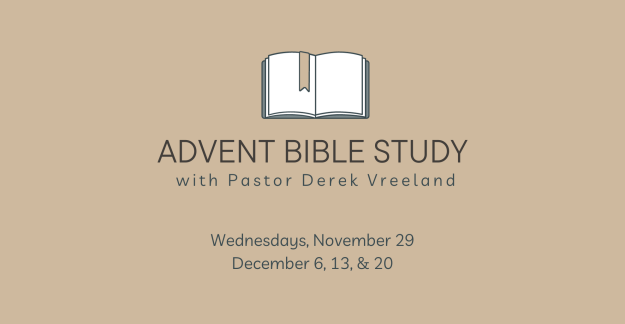 Advent Bible Study
Every Wednesday, from 11/29/2023 to 12/20/2023, 6:30 PM - 8:00 PM
Join Pastor Derek in the Life Center on Wednesday nights beginning November 29 at 6:30PM for an Advent Bible Study. Over four weeks we will be looking at four passages from Isaiah in The Message Bible as we enter into the anticipation of the birth of Jesus.
+ November 29: Isaiah 2:1-9
+ December 6: Isaiah 5:1-23
+ December 13: Isaiah 7:10-25
+ December 20: Isaiah 9:1-7
The Message is a contemporary translation written by Eugene Peterson. His attempt was to draw upon the sacredness of everyday language. You do not need a copy of The Message to participate in this Bible study. The passages from Isaiah in The Message will be provided each week!
No need to sign up, just show up! Childcare is available. Contact Sarah Foster at if you need childcare.